Photolitho­graphy

Quality optics and components
by specialists

Especially in photolithography amcoss shows its versatility – with high expertise we repair and refurbish a great variety of optical, mechanical and electro-mechanical components and devices, but also develop engineering solutions for individual, customized new parts.
OVERVIEW
Our photolithography portfolio
No matter whether new part or elaborate repair – we will almost always find a way to solve extraordinary or unusually challenging tasks, at which other companies fail or OEMs don´t provide any support for.
Here, we present an overview of our possibilities for photolithography components. If you can´t find the product you need, please contact us personally. We will be glad to help you!
We offer our services mainly for components of following OEMs: ASML, Canon, Nikon, Ultratech, Axcellis, TEL, DNS, Wafertec
ENGINEERING- COMPONENTS & NEW PARTS
Customer-specific solutions
For optical components our customers quite often do have very specific requirements which have to exactly comply with the performance data of a respective equipment. We will design, calculate, simulate, produce and measure in a way that you will receive an individual solution which an OEM will mostly not be willing to offer.
We design and build novel
Filters
Lenses
Mirrors
Wafer-chucks
and offer glass wafers in numerous specifications
REFURBISHMENTS & REPAIRS
Sustainable, profitable and efficient
It pays off to repair photolithography components – you do, however, need profound expert knowledge and sophisticated skills to carry them out. At amcoss we do have the expertise and offer refurbishments of the highest level.
Wir refurbish
Optical components (lenses, filters, mirrors, reflectors, glasses, windows)
Canon stepper chucks
Canon and Nikon shutters, shutter-motors and shutter-mirrors
HeNe lasers for interferometer & alignment-systems (as e.g., Zygo, HP, Melles Griot)
Spinmotors
Other mechanical, electro-mechanical and mechatronic components (as e.g., lamp houses, resist-temperature control units, ceramic arms, process bowls, nozzles, Hotplates etc.)
Wafertec resist pumps
Re-use instead of refuse
With our services we support you in improving sustainability in photolithography production. We do so by helping to prolong the life cycles of older machinery and systems – which are no longer supported by OEMs . Also, cost efficiency can be improved because a repair by amcoss is significantly more economic than buying spare parts or even a new equipment. Moreover, not to forget the aspect of waste avoidance: not only the components themselves, but also entire equipments are spared scrapping.
REFURBISHMENT & ENGINEERING OF LENSES BY CANON & NIKON
Optimized transmission & uniformity
For a great variety of lenses we offer optical and (depending on the lens model) also mechanical refurbishment or even new design and construction according to your specifications. Before leaving our in-house laboratory all lenses, as a matter of fact, are being measured with regard to uniformity, intensity, transmission and reflection. Customer data, obtained on-site during authentic production processes, confirm and additionally guarantee the reliability of our refurbishments. Hundreds of successful lens refurbishments and engineerings are evidence of this amcoss quality.
FILTERS, MIRRORS/REFLECTORS AND GLASSES
Significant improvement of optical characteristics
Also for filters, mirrors, reflectors and glasses we do not only offer high-end refurbishments, but, even engineering services for customized solutions.
We refurbish or construct these optical parts according to precise customer specifications, which for filters are based on respective machine data. So the coating data of the filters are being determined for the individual customer and every part will receive its distinctive, new coating as well as other necessary (even mechanic) treatments. Final measurements show that the optical characteristics (depending on the component) as e.g., intensity or uniformity can be improved significantly by amcoss refurbishment and that also future wear is low.
Also:
Flat mirrors
Glasses
Special filters
Half-mirrors
ND filters
Shutter mirrors
Uniformity filters
Broadband filters
Depolarizers
UV-Blocker-filters
RPF / FRA / ISS filters
Canon item numbers
Nikon item numbers
ASML item numbers
Ultratech item numbers
ELECTRO-MECHANICAL DEVICES & MECHANICAL COMPONENTS
Fully functional – expert repairs guaranteed
For many years and with profound know-how our experts have been carrying through electronical and mechanical repairs for a variety of electro-mechanical and mechanical components and devices for photolithography.
Following a reception-inspection and thorough cleaning, all defective parts are being exchanged. After repair, the devices will be measured, tested, adjusted and if necessary calibrated on our special in-house test equipment. You will receive an operable, reliable component, functioning just as well as a new one.
Also
A variety of motors
Resist-temperature control devices
Chucks
Nozzles
Heat exchangers/Heat exchanger controllers
Hotplates
Shutter-mirrors
Canon I-line power supply
Canon Stepper Chucks & ASML Wafer Tables
Vest possible flatness independent of
surface structure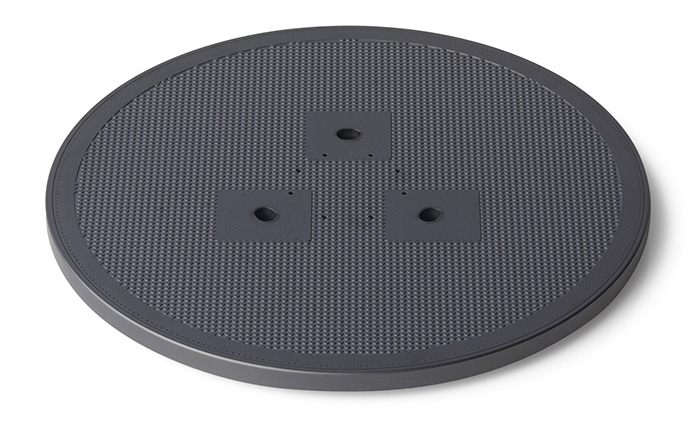 We refurbish the front and back side of Canon stepper exposure pin and ring chucks. Furthermore, you can order the development and design of customer-specific chucks.
Refurbishment process
At first we will check if stains, scratches and especially cracks or chippings can be repaired at all and whether this would be economic for you.
Before, during and after repair, wafer chuck flatness will be precisely measured via interferometer. Your chuck will be treated for as long as the best possible PV-value (Peak-to-Valley value) – indicating flatness – has been reached.
Before refurbishment: Scratches and stains on surface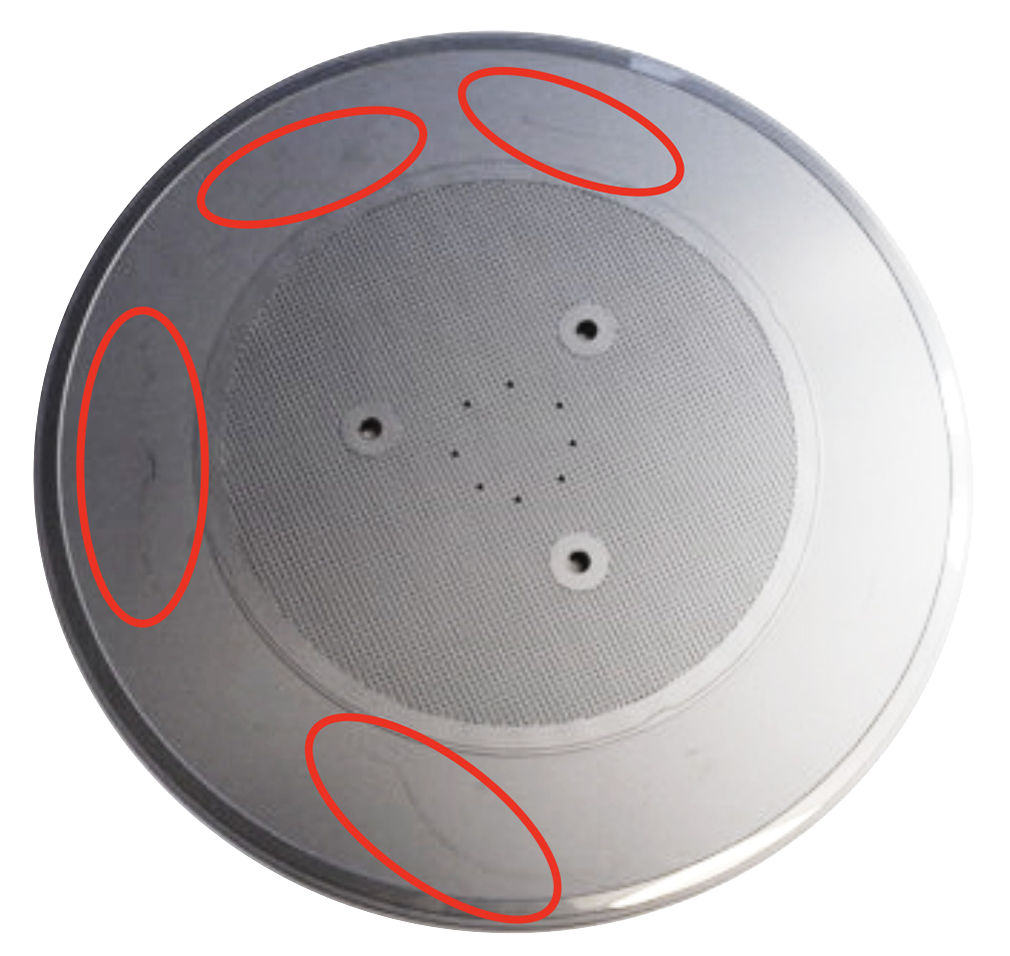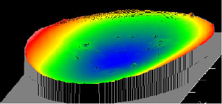 After refurbishment:
Homogeneous surface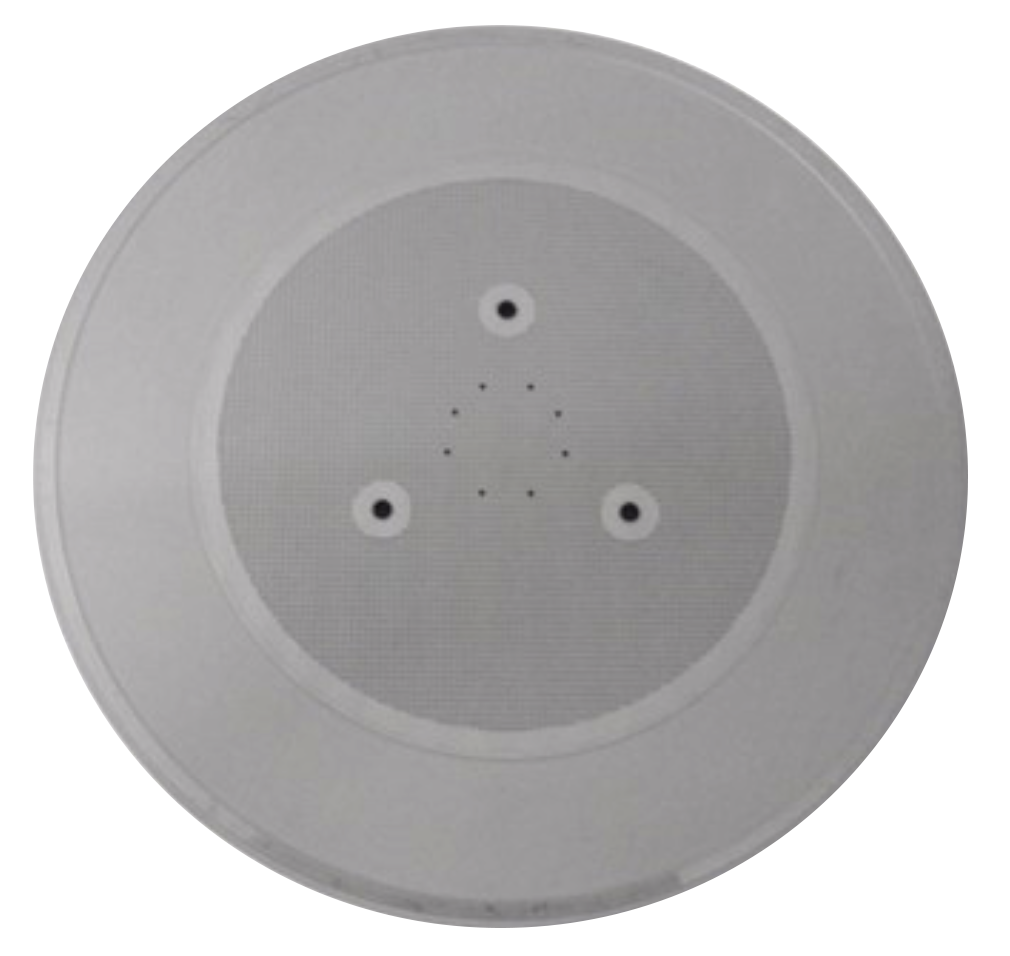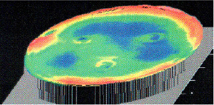 New wafer chucks with customer specific design made by amcoss
We also engineer and manufacture original chucks from your individual designs out of different materials such as e.g., silicon carbide or CTE glass.
Example: Pin chuck with customer specific adjustments
REFURBISHMENT & REPAIR OF WAFERTEC PUMPS
Forget about searching for alternative
pump suppliers
amcoss offers refurbishments for your defective Wafertec dispense system (models F30, F32, F1 and S30) which will afterwards function as precise and reliable as a new pump. We therefore provide a perfect and cost-attractive solution which not only prolongs the life span of your Wafertec system, but also of your whole process equipment.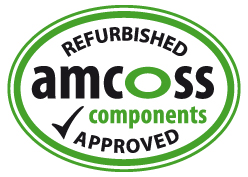 Advantages
Attractive price as repair is more economic
Prolongation of life span of equipment
Already qualified – can be directly used in your established processes
Simple sourcing
Short down times for your process equipment – saves time and costs
1 year warranty on exchanged parts
SPECIAL GLASS WAFERS
Discover our great variety of specifications
Supplying glass wafers with utmost flexibility is one of our specialities! In this case we do not only talk about standard products, but we will supply you with the wafers you ask for (independent of manufacturers), including all finishing processes (as e.g., thin-film coating) and wafer labelling.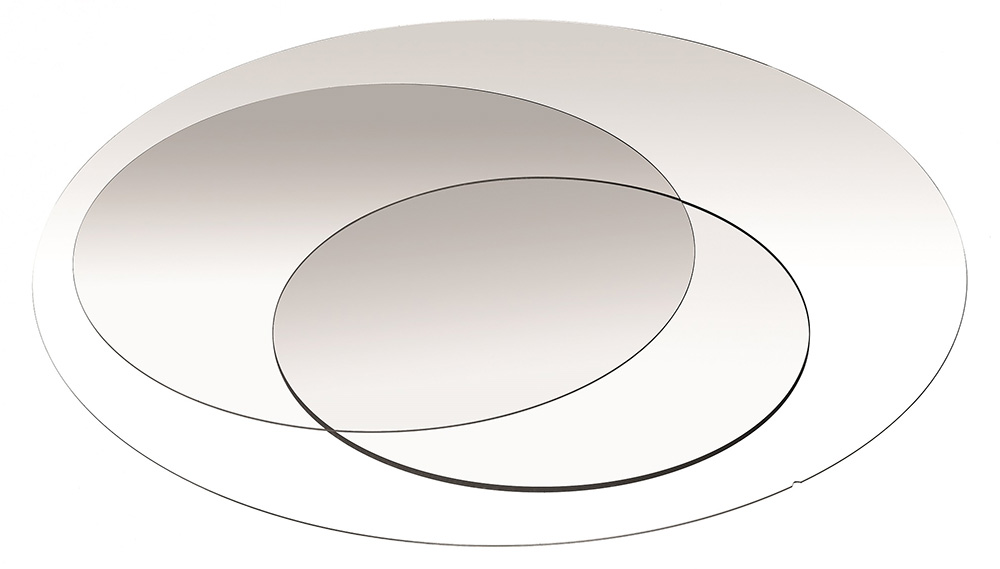 We also offer extra specifications with regard to:
Wafer thickness: extremely thin wafers (as e.g., Φ200 ×t0.17mm)
Size/shape: many different sizes (outer diameter) and shapes possible (with perforations, bevels , notches, flat-orientation etc.)
TTV (Total Thickness Variation): utmost precision, least thickness deviations (as e.g., for 8" TTV = 0.430 μm, measured with interferometer)
Surface roughness and -flatness: extremely smooth and plane surfaces through two-sided polishing and lapping with abrasive powders
Edge processing: edge profiling for different edge shapes and -grindings for maximally smooth edge surfaces
Materials available:
Different silicon glasses (synthetic, quartz glass…)
Various non-alkaline glasses (as e.g., Eagle, BF33…)
Quartz glasses
Optical glasses
Glass with low thermal expansion (low expansion glass)
Semi-crystalline glasses (glass-ceramics)
Soda-lime glasses
Float glasses (same expansion coefficient as e.g. silicon)