Plasma

Second-source as well as
first-class engineering

We simplify sourcing of components for plasma processes in wafer production by guaranteeing their availability independent from the OEM - through shorter lead times, lower costs and sound expert knowledge. Also, customer specific engineering, following your individual requests, belongs to our repertoire in this application area.
OVERVIEW
Our products for plasma applications
Horrific sourcing costs, inacceptly long lead times, zero availability of original spare parts and no repair services, are the facts, sourcing for special components for plasma chambers and processes often has to face. So, it is great to have access to a supplier, who on the one hand, has got the necessary know how on materials, procedures and requirements to be able to offer customized component engineering and on the other hand can supply you with high-quality, fully-functional second-source components.
We offer
Electrostatic chucks
ISO-hotplates
DSQ-hotplates
Standard ceramic components (and corresponding parts) of AMAT and LAM (second-source)
Ceramic special parts
Use our competence to your advantage
To act responsibly and sustainably doesn´t mean to only pay attention to the self-evident aspects of environmental protection, but it concerns all business areas – the big picture. It also means to carefully manage your finances, prolong life cycles, increase quality and to take advantage of competence. Our competence in procuring the components mentioned above in an uncomplicated manner will guarantee you
noticeable cost reduction
short lead times to reduce downtime
highest quality for optimal processes
prolonged life cycles for older equipment
Refurbishment of ESC-CHUCKS by LAM
Fully functional and leaktight
We offer specialized refurbishments for the so-called ESC perimeter lifter (6" and 8") by LAM Research. As soon as we receive a defective ESC chuck we will start an analysis to find out about any malfunction or leakage. In various tests and measurements we check whether the ceramic surface coating has been damaged or shows unevenness, whether the sealing- or adhesive layer between metal chuck and ceramic layer has got untight or whether there is any electrical problem or problem with the electrodes. Depending on the results, the chuck is being treated correspondingly. After a thorough final inspection you will receive a perimeter lifter, functioning like a new one and being absolutely leaktight. We have well-known customers who have been trusting our ESC chuck refurbishment for many years and can therefore attest the quality of our work.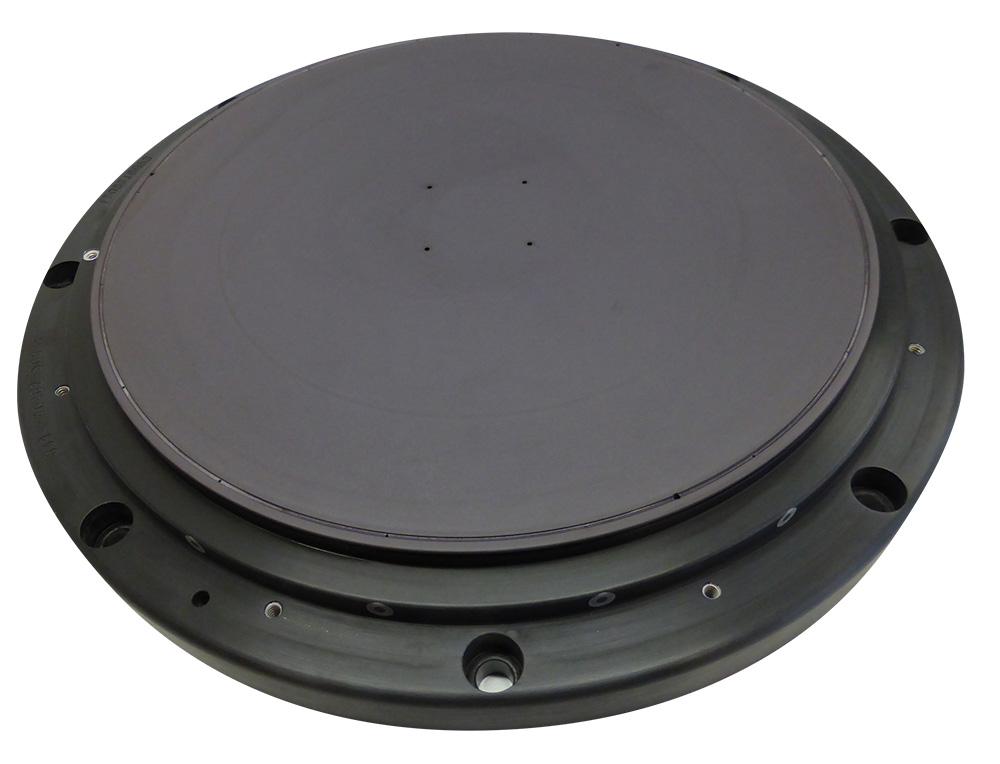 Electrostatic chucks OEM item numbers (refurbishment)
| | |
| --- | --- |
| Description | OEM number |
| 8" ESC Perimeter Lifter | 839-440462-508 |
| 6" ESC Perimeter Lifter | 839-440462-306 |
ELECTROSTATIC CHUCKS
Quality, function & design without compromise
Besides chuck refurbishments we also offer profitable replacement chucks for diameters 150mm and 200mm by LAM Research 9400, 9600, Rainbow and Alliance etching platforms, that will convince you in every aspect: You will receive a chuck which in quality, function and design equals the original product to 100% and so will not cause any changes in the production process. The only changes you will experience are considerably lower prices and prompt delivery! This means improved productivity, increased efficiency, shorter response times and more planning reliability.
Electrostatic Chucks OEM item numbers
| | |
| --- | --- |
| Description | OEM number |
| ESC 6ʺAlliance 4420XL Poly Etch | 718-043893-602 |
| ESC 6ʺRainbow TCP9600 Alu-Etch | 718-043893-612 |
| ESC 8ʺ Alliance 9400/9600 PTX | 718-043893-801 |
| LAM ESC 8ʺ (neu) | 718-043893-818 |
| ESC TCP9600 Metal 6" | 718-092326-061 |
| ESC PTX9400 Poly 6" | 718-094523-261 |
| ESC PTX9400 Poly 8" | 718-094523-281 |
| ESC TCP9600 SE Metal ELECTD, UPPR, 6ʺ ESC, MJR FLA, NEW | 718-094756-061 |
| ESC TCP9600 Metal 8" | 718-094756-081 |
DSQ- and ISO-HOTPLATES
Immune against surface damages
Our ISO-Hotplates come with an intelligent solution already built-in. The heating wires are directly sunk into the aluminum plate and are therefore perfectly protected – as in contrast to the conventional isotropic hotplates with an external heating foil bonded to their back and so being succeptible to damages, such as scratches or abrasion. Our amcoss hotplates with integrated heating wires cannot be damaged by mechanic wear on the surface. This fact prolongs control- and exchange cycles, increases lifetime and consequently reduces costs!
With DSQ-Hotplates there is also the problem of deformation due to the enormous heating of the plates up to 280°C during the plasma process. As a result, uniformity is no longer guaranteed and therefore wafers are inevitably being heated and incinerated inhomogeneously. amcoss DSQ-Paddles compared to conventional hotplates do have an improved, innovative design. It reduces and holds up warping considerably. Long-lasting and better homogeneity of the plate with all ist positive effects is the result.
Hotplates for DSQ-chambers OEM item numbers
| | |
| --- | --- |
| Description | OEM number |
| Paddle 5" THR Assy High temp | 853-347146-004 |
| Paddle 5" THR Assy High temp | 853-347146-005 |
| Paddle 6" THR Assy High temp | 853-347146-006 |
| Paddle 8" THR Assy High temp | 853-347146-008 |
Hotplates for ISO-chambers OEM item numbers
| | |
| --- | --- |
| Description | OEM number |
| Paddle 4" HTR Assy | 853-021917-004 |
| Paddle 5" HTR Assy | 853-021917-005 |
| Paddle 6" HTR Assy | 853-021917-006 |
| Paddle 8" HTR Assy | 853-021917-108 |
| Paddle 6ʺ ISO-HTR ASSY853, IMPRV. HEATER | 853-021916-006 |
CERAMIC PARTS
Varied engineering solutions and
second source components
If you are looking for a supplier who can provide custom-built ceramic parts for semiconductor-, electronics-, and other industries, in small quantities, but highest quality, you can be certain to have found the right partner in amcoss. According to your specifications we design and draw complex components using a mix of materials (ceramics – ceramics, ceramics – metal, ceramics – plastics), we have them manufactured and supervise the production process for you.
Aluminum-Oxide Al2O3
Aluminum-Nitride AlN
Zirconium Oxide ZrO2
Quartz SiO2
Sapphire
Graphite
Porose Ceramics